Simple Chocolate Chip Cheesecake Recipe



Use this search box to find the info you're looking for!
Custom Search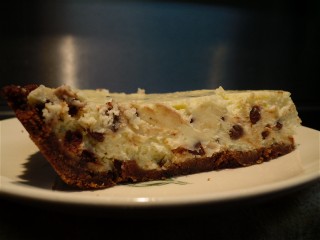 Bake this chocolate chip cheesecake recipe at home and save. Who doesn't love a slice of creamy, decadent dessert loaded with chocolate chips? But the price per slice!
Probably not loving that part so much, are you? Me neither, so I bake instead of buy. You can too. For about the price of a slice from the factory you can bake a 9-inch cake.
Contrary to what you may have heard, it's very easy to make homemade cheesecake.
What do you need? Mainly an electric mixer or muscles. And this recipe!
Cheesecake Crust
Can't start till you do this part! First step in the chocolate chip cheesecake recipe is choosing your crust.

Will it be the old favorite? Graham cracker crust. It's a good choice. You can buy it ready to fill and bake. Simple but tasty.

Or maybe an Oreo crust is more your style. You'll find it on the baking aisle next to the graham crust.

Oh I see, no mass produced pie shell for you. You want your fancy dessert to be 100% homemade!
Ok, here's how to craft your crust...
Cookie Crust Recipe
1 1/2 cups of crushed cookie crumbs

1/3 cup (73g) of margarine, melted

1/4 cup (48g) of granulated sugar

food processor or sturdy gallon (3.78L) size plastic bag

9-inch (23cm x 3cm) pie pan
Preheat the oven to 350° F or 180C/gas 4.
Puree/crush cookies of your choice a few at time till you have 1 1/2 cups of fine crumbs.
I like to use the plastic bag method to crush my cookies.
Place several cookies in the bag and seal.
With your hands or rolling pin smash those cookies into bits!
Pour into large measuring cup.

Repeat until you've crushed enough.

Through the bag away!
Works well and there's no mess to clean.

Place the margarine in a large bowl. Cover. Microwave on high for about 30 seconds or until liquified.

Add the crumbs and sugar to the bowl of margarine.

Stir the ingredients together until crumbs, sugar and margarine are blended.

Pour crumb mixture into the pie plate. Evenly distribute the crumbs up the sides and across the bottom of the plate.

With your index and forefinger inside the plate and your thumb on the outside, press the crumbs into the sides of the plate. Use a pincer like motion. Repeat, rotating the dish until all sides are covered.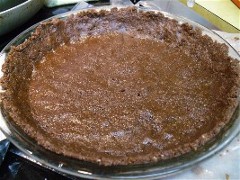 Press the crumbs into the bottom of the plate with your fingers or the back of a spoon.
Your cookie crust is ready for the oven!

Bake for 10 minutes. Cool.
Now fill that crust. Time to make and bake this chocolate chip cheesecake recipe!

Suggestions:

My favorite crust is a chocolate graham cracker crust. I add a 1/3 of a cup of cocoa powder to the recipe above. Nice and chocolatey!

For a change, I used Chocolate Raspberry Newton Fruit Thins for my crust (see photo above). Tasted good gave the cheese cake a bit of a raspberry flavor.


Chocolate Chip Cheesecake Recipe
2 8 oz blocks (454g) of cream cheese, softened

1 teaspoon (4.3g) of vanilla extract

1/2 cup (96g) of granulated sugar

2 large eggs

1/2 or 3/4 cup (90g or 135g) of mini semisweet chocolate chips

9-inch crust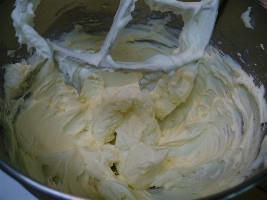 Beat cream cheese, vanilla and sugar until creamy and well blended.
Scrape the bowl. Add the eggs. Mix well.

Add the chocolate chips. I suggest you use 3/4 of a cup. But 1/2 cup will do. Stir.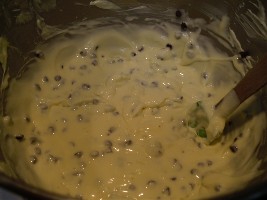 Pour the cheese mixture into the prepared crust. Spread evenly.

Bake for about 30 to 35 minutes.

Refrigerate. Don't serve your chocolate chip cheesecake until completely chilled. Tastes best cold.

A simple recipe with a delectable taste. This chocolate chip cheesecake recipe is more delicious than what you'll find in your grocer's freezer. Less expensive than the factory's fancy pie. Give it a try. Save some money. Savor the praise!
Return to Dark Chocolate Recipes
Return to Health Benefits of Dark Chocolate Home Page