History of Chocolate Drinks Alive at Chocolate House
Use this search box to find the info you're looking for!
Custom Search
Ever wondered what the treasured chocolate drinks of the Mayans and Aztecs tasted like? Sure you have, as a true chocolate lover.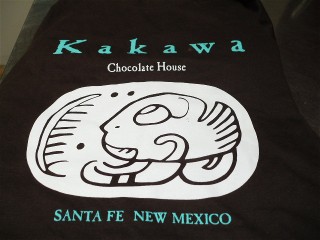 Me too. But without a time machine...well, you see the problem. Or so I thought.
Luckily, my older sister discovered the Kakawa Chocolate House in Santa Fe, New Mexico.
A place where I could taste and trace the evolution of hot chocolate in a matter of minutes.
Problem solved! Almost...
View
Chocolate Dessert Places I've Tried
in a larger map



Kakawa Chocolate House
I had to get there first. Road trip! So off I went to the City Different in the Land of Enchantment.
A mere 1,000 miles later I arrived in Santa Fe, New Mexico home of the Kakawa Chocolate House.
From the outside the terracotta colored adobe building was unremarkable. But on the inside was the living history of hot chocolate.
A place to taste the time line of the bittersweet brew.
The location of my near death by chocolate experience! Yes, I spent an hour in the great bittersweet beyond.
Hot Chocolate Recipes
The Kakawa is truly heaven on earth for the serious chocolate lover. You can choose from more than a dozen different elixirs or chocolate drinks.
Drinks made with many interesting ingredients like...
chili-assorted varieties
roasted blue corn
flowers-roses, lavender, orange blossoms, hibiscus
sherry
black pepper
almond milk
essential oil of ambergris-a substance from the gut of a sperm whale

Ingredients necessary to replicate authentic recipes from ancient Mesoamerica, Old Europe, and Early America. Plus modern versions of hot chocolate.
You really can sample the entire time line from Mayan to modern.
The Hot Chocolate Tasting
We did. The extremely helpful and knowledegable woman behind the counter gave us several samples. Each one very tasty and so different!
There are just two basic flavors, very dark chocolate and semisweet. But the other ingredients gave each drink it's own unique flavor. Amazing!
We tried the Atole, Chili, and Zapoteca from the bittersweet Mesoamerican elixirs. Wow, the first sip was like a slap in the face! Pungent.
These drinks are made with 99% unsweetened chocolate. Talk about intense dark chocolate flavor. But so delicious and unlike any other hot chocolate I had ever tried.
Then we moved onto the semisweet 1680 English and the Modern Mexican. Both were great, much milder chocolate flavor.
The English, with it's sherry and orange blossoms, was like drinking perfume. The Mexican was just plain rich and delicious with it's roasted almonds and cinnamon.
What can I say? Words fail me!
You really get a sense of how hot chocolate has evolved. How each culture modified it to reflect its own unique palate.
Finally we decided to have a small cup of the Atole and the Modern Mexican. The drinks were served in special cups reminiscent of those used in the early chocolate houses of Europe.
We sat back and savored our ambrosia in the relaxed atmosphere. It's a great place to take a break from touring the town.
Chocolate drinks aren't the only things the Kakawa offers.
Candy, Brownies and Flourless Chocolate Cake Too
My eye was drawn back to the display case. Home of the dark chocolate candy, brownies and flourless tort. Way too tempting to pass up, couldn't leave without buying some for later.
So I purchased 2 chocolate decadence brownies, aptly named, and a mini flourless chocolate cake.
Plus some Bailey's Irish Cream truffles, chili caramels, and pink sea salt caramels.
Sadly, it was time to go into the light...of day. My time in the great bittersweet beyond was over. Back to reality, darn it!
If you are or know a serious chocolate lover, this really is the place to go. The chocolate drinks are truly different, spicy, floral, and fabulous. It's like visiting a hot chocolate museum. But without the dry history lesson.

Return to Chocolate Reviews

Return to Health Benefits of Dark Chocolate Home Page