Chocolate Pound Cake Recipe Make This Cake From Scratch
Use this search box to find the info you're looking for!
Custom Search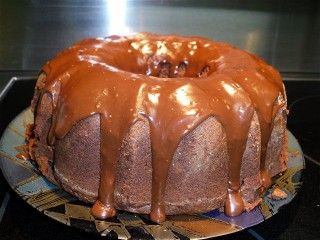 Satisfy your chocolate itch! This easy chocolate pound cake recipe will hit the spot.

It's a dense and delicious comfort food that'll improve your mood.
Share it. This cocoa confection travels well.
Recipe makes enough to satisfy a crowd.
Make it and take it to your next gathering. A homemade chocolate cake is always welcome.
Baked in a bundt pan, it's got eye appeal too!
At home or away, this will make any chocoholic's day.


Chocolate Pound Cake Recipe
1 1/2 cups (344g) of butter, softened
3 cups (575g) of sugar
2 1/2 teaspoons (10g) of vanilla
1/2 teaspoon (2.5g) of salt
6 eggs
2 1/4 cups (224g) of all-purpose flour
1 cup (111g) of natural cocoa powder
1/2 teaspoon (1.9g) of baking powder
1 cup (244g) of buttermilk*
Preheat oven to 325°F (160 C/gas 3). Thoroughly grease and flour a 12-cup (25 x 9 cm) bundt pan, set aside.
In a large bowl; beat together butter, sugar, salt and vanilla. Add eggs one at a time, mix well.
You could add them all at once but it's messier and more difficult to mix.
In a separate bowl; combine flour, cocoa, and baking powder. Add to butter mixture, alternating with buttermilk, until used up.
Mix well. Adding too much milk at one time may cause batter splatter.
Carefully pour batter into prepared pan. Bake for about 1 hour and 20 minutes or until done. Cool.
When cool remove cake from pan. Place a plate, face down, over the top of the pan. Then turn pan, with plate in place, upside down.
Gently tap bottom of inverted pan until cake comes loose.
Bundt Pan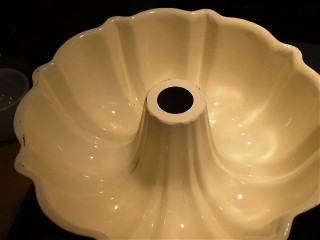 Never used a bundt pan? Had this old thing for years. Still makes an attractive cake.
Be sure to take your time when preparing the pan. The better you grease and flour, the easier your cake will come out of the pan.
A silicone pan is a good choice for easy release and clean up!
Tips
To decorate, sprinkle powdered sugar on the cake. Or drizzle your favorite glaze over it.
Surprise! I chose a chocolate glaze recipe .
Got a big crowd to feed? Cut the cake into thin slices. It's dense and holds up well to slicing.
*Got milk but no buttermilk? No problem, use a substitute. All you need is vinegar or lemon juice and regular milk.
Get out your measuring cup and add 1 tablespoon of vinegar or lemon juice. Then fill to the 1 cup mark with milk. Let it sit for 5 to 10 minutes. Problem solved!




Count on this chocolate pound cake recipe to satisfy. A dense, moist, cocoa confection, this homemade cake has what you need. Makes enough to share. Or you can squirrel it away in the freezer. So you can relieve your itch before you go nuts.





Return to Chocolate Cake Recipe Page

Return to Health Benefits of Dark Chocolate Home Page