You Deserve
Gourmet Godiva Chocolate Truffles
Use this search box to find the info you're looking for!
Custom Search
Godiva chocolate truffles, gourmet dark chocolate candy on the same shelf as Hershey, Nestle, et al?
Yes! Classy company now sells Gems in not so upscale stores. Now it's easier than ever to get a taste of their fine chocolate.
And I did. Bought a bag of those beautiful Godiva Gems. Tried them and they're just what you'd expect.
Delicious.
Has the mighty candy maker, named for a legendary lady, lowered itself?
Nope. Good idea? Yep.
Now they can reach the masses of chocoholics that don't have Godiva boutiques nearby.
Like me. And you?
Where to Buy Gourmet Chocolate Truffles?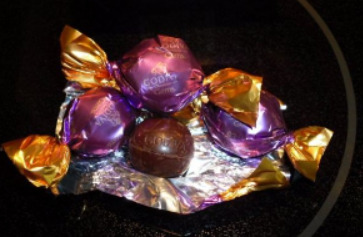 Where can you buy Godiva chocolate?  To my surprise, I found the Gems on the candy aisle of Kroger and similar grocery stores.
You can also check the candy aisles in CVS, Walgreen's and Target.

Kroger carried the dark and milk chocolate truffles.
How much did they cost? I paid about 5 dollars for the four ounce bag.
Not a truffle fan? They also had the milk chocolate Gems with caramel filling.
Plus Godiva plain chocolate bars with 85% and 72% cocoa content. And a 72% bar with almonds.
You'll still have to visit an upscale store, company boutique or web site for their full line of chocolates.
The crafty chocolatier is just dangling a little taste in front of us.
I bit! Will you?
No Godiva in your local stores?  You can purchase some of those tasty gems and more here.

Chocolate Taste
I had tasted Godiva chocolate many years ago. The name stuck with me but the taste didn't.
Why? Because I didn't really like candy in those days. Preferred my chocolate baked.
So when that beautiful purple and gold bag of dark chocolate caught my attention, I had to buy. Wanted to see what all the fuss was about.
Could this candy live up to all the hype surrounding the famous name?
Unwrapped one of the Gems. First thing that came to mind was a black pearl, it was shiny and round. And the smell...mmmmm!
Bit through the firm shell, fabulous bittersweet flavor. Then onto the creamy center. Tasted like rich fudge! Both melted away.
But the rich fudge taste lingers on your tongue for many seconds. Eventually it, like all good things, fades away.
A very satisfying piece of quality chocolate candy. Not bitter or too sweet. You can taste the quality of the ingredients.
I think they lived up to their reputation!
But what about the calorie count? Would all those rich ingredients make the Godiva chocolate truffles too fattening?
Gems Nutrition Facts
Let's see what the bag tells us...
a four piece (42g) serving contains 180 calories
12g of fat-7g are saturated, no transfat
10mg cholesterol
40mg sodium
22g total carbohydrate
2g dietary fiber
2g protein
10% iron-% of daily value
Cut the serving size in half and you can keep it below 100 calories. Probably doable for most people.
The Godiva chocolate truffles are so rich and satisfying 1 or 2 might just be enough. Savor them and avoid some of those nasty calories and fat.
Plus you'll get a little protein, fiber and iron.
Godiva chocolate truffles are truly gourmet dark chocolate candy Gems. Now you can dash down to your nearest Kroger or similar store and get some.
Or order them online here.

Could it be too easy to get? No longer confined to the boutique will it lose some of its mystique?  Doubt it!





Return to Dark Chocolate reviews

Return to Health Benefits of Dark Chocolate Home Page