Battle of the Bars: Magnum Ice Cream Takes on Dove Ice Cream
Use this search box to find the info you're looking for!
Custom Search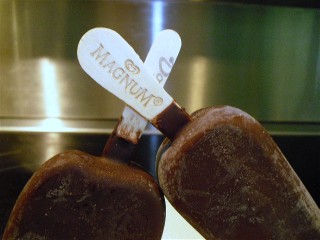 Which bar tastes better? Magnum Ice Cream or Dove Ice Cream.
I was intrigued by the new kid in town. Dove has dominated for years.
Could Magnum compete?
The battle of the delicious bars was on!
Both bars looked similar but a blind taste test opened my eyes!
Similar looking yes, but each had it's own unique flavor.
One bite wasn't enough.
Had to devour them both to determine a winner.
It was sooo close.
But Magnum proved to be a bit of a dark horse.






Taste Test

I needed to taste test two ice cream bars. How was I going to do it without bias?
I'd enjoyed, really enjoyed, a Dove bar a few years ago. Didn't want to give Dove an unfair advantage. So a blindfold seemed like a good idea.
My son, never one to miss a chance to tease (torture?) me, gladly volunteered to help with the test.
I was completely in the dark about which bar was which. Totally dependent on my taste buds.
Turns out those seemingly similar bars were very different. Flavor wise that is.
Here's what I found...
Dove's vanilla ice cream was slightly creamier
Magnum's had a stronger vanilla flavor, contained flecks of vanilla bean
Two tasty slabs of vanilla. But which ice cream was best? I'll leave that up to the vanilla lovers.
I was more interested in the all-important dark chocolate coating...
Dove's had a very good semi-sweet chocolate flavor but
Magnum's had a more intense, slightly bitter, excellent Belgian dark chocolate flavor
'Twas that flavor that won my favor. Magnum Ice Cream defeated Dove!
Why? Cause semi-sweet just can't beat 60% cacao. I think all true dark chocolate fans would agree.
Don't cry Dove, all is not lost. Fans of semi-sweet, like my son, still prefer your bar.
Magnum won the taste test but what about the calorie count?
Magnum Ice Cream Calories and Nutrition Facts Versus Dove
Magnum beats Dove again! The facts speak for themselves.
Magnum ice cream bars are larger weighing in at 3.38 fl oz each. 1 bar per serving, based on 2,000 calorie diet...
Calories-240
Total Fat-17g, saturated 11g
Sugars-18g, dietary fiber 2g, total carbs 20g
Protein-3g
Vitamin A-4%
Vitamin C-0%
Calcium-8%
Iron-15%
Dove ice cream bars weigh in at 2.89 fl oz each. 1 bar per serving, based on a 2,000 calorie diet...
Calories-250
Total Fat-17g, saturated fat 10g
Sugars-19g, dietary fiber 2g, total carbs 24g
Protein-3g
Vitamin A-4%
Vitamin C-0%
Calcium-6%
Iron-2%
The above nutrition facts are from each manufacturers package.
Magnum has fewer calories per serving than Dove. But Dove has slightly less saturated fat.

Health Benefits?
Magnum ice cream bars edged out Dove ice cream bars here too. Ok, you can stop laughing now!
Here's my evidence. Magnum contains a little more calcium and much more iron per serving. Plus they don't process their chocolate with alkali, according to the box.
Therefore, the chocolate is likely to have retained more of the beneficial dark chocolate antioxidants found in cocoa.
More health benefits of dark chocolate, possibly.
Gold Wrappers
Even Magnum's wrappers and boxes are more attractive than the competitions. There's something about a gold wrapper that screams quality.
Way more appealing than Dove's plain vanilla wrapper.
Plus Magnum has the letter "M" stamped on each bar.
And last and surely least, but worth mentioning, is their box. It has rounded corners. Makes it stand out!




Two worthy opponents faced off in the battle of the bars. A clear winner emerged: Magnum Ice Cream. The best bar by far for serious dark chocolate fans. Who could have guessed that the dark horse would dethrone the Queen?




Return to Dark Chocolate Reviews

Return to Health Benefits of Dark Chocolate Home Page