Mexican Hot Chocolate Recipe From Scratch
Use this search box to find the info you're looking for!
Custom Search
Say adios to boring hot cocoa! Try this Mexican hot chocolate recipe for a fiesta of flavor. Mix up this homemade hot beverage. Enjoy rich chocolate flavor with cinnamon and vanilla.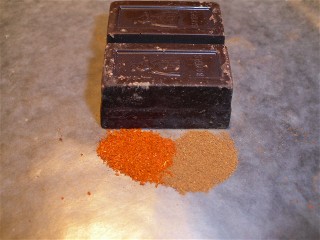 Want to get your taste buds tingling? Add some cayenne pepper. Sweeten it with piloncillo for a more authentic taste.
Not your ordinary cup of cocoa! Ban the bland. Make it Mexican style, hot and spicy.
Or skip the pepper and savor the cinnamon and vanilla.
Mexican Hot Chocolate Recipe
6 ounces (165ml) of milk
1 square or 1 ounce (28g) unsweetened baking chocolate, Baker's
3 tablespoons (38g) of piloncillo, Mexican brown sugar or dark brown sugar, packed
2 pinches of cinnamon, or to taste
1/8 teaspoon of vanilla extract
1/4 teaspoon of cayenne pepper, or to taste
Place unsweetened baking chocolate in a large coffee mug. Add milk and sugar.
Microwave on high for about 90 seconds. Stir carefully until chocolate melts.
Add cinnamon and vanilla. And cayenne, if desired. Stir well.
This recipe makes a spicy cup of chocolate with a calorie count of about 285.
The cayenne may cause your throat to burn. If you decide to add it, do so slowly. Taste test after each addition. A little goes a long way!
Is cayenne too hot for you? If in doubt, leave it out.
What's Piloncillo?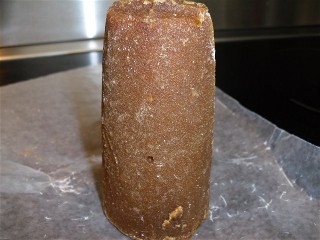 It's Mexican brown sugar. Made from sugarcane and unrefined.
It gives the hot chocolate a slightly different taste.
But is it worth the extra effort?
You practically need a hammer to break some off. And it was difficult to get it to melt completely.
But it did taste good.
If you're interested in using it, look for it in the Hispanic food section of your favorite store. It was with the spices.
You can't miss its unique shape.
I've also seen it in the fresh fruit and vegetable section. Or try the internet.
Can't find it or don't want to struggle with it? Just use dark brown sugar instead.
Or try this easy Mexican hot chocolate made with Ibarra Chocolate.




A spicy cup of Mexican style hot chocolate is soooo different. Chocolate and hot peppers? Oh, yes! That's a unique flavor combination that every chocolate lover should experience at least once. Careful with the cayenne!





Return to Hot Chocolate Recipes

Return to Health Benefits of Dark Chocolate Home Page