Raisinets Reviewed: Reasons to Eat These Raisins
Use this search box to find the info you're looking for!
Custom Search
The main reason to eat raisinets? The dark chocolate, of course. Real raisins covered in bittersweet chocolate.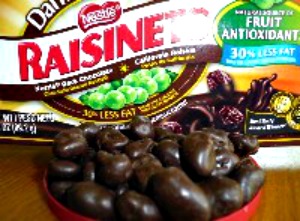 Bittersweet candy that nearly overwhelms the taste of the fruit!
So even if you don't like raisins, these are perfect for you.
Covered in chocolate they're not just edible, they're tasty.
And this candy doesn't cost a lot.
Cheap candy with real fruit in it. Fruit that's a good source of antioxidants.
Enough good reasons for you? No? There are a couple more.
Raisins
It seems most people like raisins. But if you're an oddball like me, you can live without them.
Or can you? Yes, but you and I would be missing out on all those free radical fighting fruit antioxidants.
I hate to miss out on anything! So how to add those antioxidants to my diet?
Try those less than appealing dried grapes covered in dark chocolate, of course.
Dark Chocolate Raisinets®
Bittersweet can make almost anything palatable, almost. So I purchased a box of dark chocolate raisinets.
I was willing to risk a dollar and change. After all, I could always give them to my mother!
Well, she's out of luck. They're good.
These chocolate covered raisins are surprisingly good. They've got a thin shell of bittersweet that's nicely balanced by the sweetness of the raisins.
The candy coating nearly covers the taste of the fruit. The raisin center is chewy but not too chewy.
This inexpensive candy even appealed to my husband who is a milk chocolate fanatic.
Ok, they're tasty but what about the nutrition facts. Reality check.
Calories in Chocolate Covered Raisins
What does the box* say? These chocolate covered raisins are...
a natural source of fruit antioxidants
30% less fat than the leading chocolate brands
a Kosher candy
The 3.5 ounce box is about 2 servings. Each serving contains...
180 calories
8 g of fat-5 grams saturated-no transfats
5 mg of cholesterol
5 mg sodium
32 g total carbs
2 g fiber
26 g sugar
2 g protein
4% iron-daily value
Obviously, they are not a health food but are a good snack.  Dark raisinets are reasonably healthy for you. They have a few benefits derived mainly from the raisins.
Besides fiber, the dried grapes supply potassium, a mineral most of us need more of.
The calories and fat are a concern but as always, moderation ( a challenge when it concerns chocolate!) is the key.
You might want to reduce the serving size. Three servings, at 120 calories each, is closer to the 100 calorie limit for snacking that nutritionists recommend.
*Milk allergy suffers, this candy contains lactose and nonfat milk.




If you're hungry for cheap candy, Raisinets are a good choice. At about a dollar for a 3.5 ounce box, you can't get much cheaper! The dark chocolate is tasty and the raisins are healthy. I'd call that a bargain.
They're a reasonable choice to satisfy your snack attack. So why not try them?  Or maybe you'd prefer Cherry Raisinets?






Return to Dark Chocolate Reviews

Do you sell healthy dark chocolate? Promote it for free. Join my Healthy Chocolate Directory

Return to Health Benefits of Dark Chocolate Home Page