Cheap Swiss Dark Chocolate that Tastes Great? Lindt Dark Chocolate
Use this search box to find the info you're looking for!
Custom Search
Lindt Dark Chocolate is Swiss dark chocolate that's cheap in price only. Don't let the low cost fool you.
It's just as tasty as that more famous Swiss milk chocolate.
Chocolate, sugar, cocoa powder and cocoa butter are skillfully blended by the chocolatier into a fine piece of dark chocolate candy.
How do they make such a big dark chocolate bar (3.5oz) for so little?
I don't know. I do know that it tastes great.
I tried the 70% and 85% cocoa bar.
You get a big chocolate taste without the big price tag.
This is Swiss dark chocolate candy you can afford to enjoy.


70% Cocoa Dark Chocolate Bar

I purchased my Lindt Swiss dark chocolate bars and returned to the privacy of my own home.
Clutching a solid dark chocolate candy bar in each hand, I was at a crossroads.
Start with the 70% chocolate bar or jump straight to the 85%?
I chose 70%. Didn't want to reach chocolate satiation prematurely, I had all afternoon.
I grabbed hold of the big bar and slowly peeled back the silver foil. My eyes traveled the length of the bar, taking in it's rich, very dark brown color.
Suddenly, the intoxicating chocolate aroma overwhelmed me. I couldn't wait any longer.
I snapped off a piece and popped it into my mouth. Just let it sit there and melt. Resisted the urge to chew it. I wanted to savor that delicious Swiss chocolate flavor.
You will too, when you enjoy your own 70% cocoa dark chocolate bar. No bitter taste, just a delicious flavor that will linger on your tongue long after the candy has melted away.
Good isn't it? Need another piece? Go ahead...I won't tell.
Or are you ready for a more intense experience?
Well then, try this...

85% Cocoa Chocolate Bar
If you want an extreme dark chocolate taste, this is the candy for you.
Dark chocolate candy with this level of cocoa is for experienced chocoholics only!
The taste is intense, a very strong cocoa taste. Much stronger than the 70%, definitely for extreme chocolate lovers only.
Everybody else shouldn't even think about it!
Honestly, it would probably gag most chocolate lovers. It's bitter. You better work up to it or forget it.
But it's goood.  So get busy!

Dark Chocolate Diamonds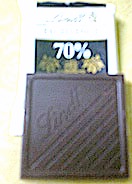 Do you have trouble controlling portions when it comes to chocolate?
Dark Lindt diamonds can help. They're individually wrapped, mini versions of the delicious 70% cocoa bar described above.
The challenge is to eat only 1 ounce of dark chocolate per day. Is that even possible?
Well, that's what's considered to be a healthy intake by the experts.
Use these handy little dark chocolate squares to limit temptation.
Instead of buying a big candy bar which you may feel obligated (who wouldn't?) to finish...
carry only one square in your purse or pocket
stash one in your desk for a little afternoon chocolate break
pass a few around to your more deserving co-workers
put one in the glove box in case you get stuck in traffic or your car breaks down
Spread them around so you don't eat them all at once.
Be sure to make every bite count! Break each Lindt dark thin square into several pieces. Let each piece melt in your mouth. Don't rush it, enjoy it.
You can eat about 4 and stay within the ounce a day allowance.
Lindt Calories
and Nutrition
Worried about the calories (who isn't?) and those pesky carbs?
Want to know which of the two solid dark chocolate bars contains the least?
The 85% cocoa extra dark bar does. The nutrition facts state that per serving it has (compared to the 70% bar)...
fewer calories

fewer carbs

less sugar

more protein

more dietary fiber
more iron

That makes the 85% cocoa the healthiest of the two Swiss dark chocolate bars reviewed.
But what about other Lindt dark bars?  Use the chart below to compare more facts!
Dark Chocolate Bars Nutrition Facts
This handy chart helps you compare the nutrition facts for four Lindt bars at once! 
A quick glance can help you choose which bar is best for you.
It compares the calories (Cal), fat, sugar (Sug), fiber (Fib), and protein (Pro) content per serving (40g). 
Calcium (Ca) and iron content per serving are expressed as a Percent of the Daily Values based on a 2,000 calorie diet.
Each serving contains...

---
Lindt: 70%   85%   90%   99%

Cal:   250     230     240     220

Fat:   19g     18g     22g     20g
Sug:  12g       5g       3g      1g

Fib:    3g        6g       5g      7g

Pro:    3g       5g       4g      5g

Ca:    2%      2%       4%    4%

Iron:  6%     25%     15%   20%
---
Lindt has a lot of swiss dark chocolate choices.  So start with a 70% bar and work your way up.  Those stronger bars are for real darkaholics only!  Don't despair, you could join us someday.


Want more Lindt? Try their Chili Chocolate. Read my review.

Return to Dark Chocolate Reviews

Return to Health Benefits of Dark Chocolate Home Page