Vegan Truffles Recipe
: Dairy Free Reduced Fat
Use this search box to find the info you're looking for!
Custom Search
Quick and easy vegan truffles recipe makes living the lifestyle a little easier. It can be a challenge to get enough iron, protein, calcium, and Omega-3 fatty acids.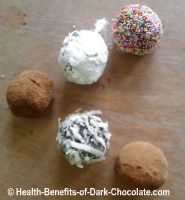 Overcome that with this sweet and tasty source.
Healthy cocoa powder and a butter substitute provide those precious nutrients.
Plus it's lower in fat than a traditional recipe.
A great choice for anyone on a diet.
Guilt-free homemade chocolate candy you can make.
No animal products means no bad taste left in your mouth.
Make it with pride and a clear conscience.

Vegan Truffles Recipe
1/2 cup (112g) of Smart Balance® light buttery spread
1 cup (111g) of natural cocoa powder
2 teaspoons (8g) of vanilla extract

2 cups (260g) of powdered (confectioner's) sugar
Cream the buttery spread in a large mixing bowl. Slowly add the cocoa powder. Add the 2 teaspoons of vanilla, mix well.
Thoroughly scrape bowl. Then slowly add the powdered sugar, mix well.
Roll into a small ball, about an inch. Or make them whatever size you wish.
Roll in cocoa powder or cinnamon. They're healthier. Use the coating of your choice but be aware of added calories or unwanted ingredients.
Mini-chocolate chips are a good choice. Just remember to check. Some brands of chocolate chips contain milkfat.
Nuts are a good choice but can be high in fat. Sprinkles or powdered sugar are easy optional coatings.
Cocoa nibs are a good crunchy choice.
This tasty recipe is actually kind of healthy. It provides intense flavor and some nutrients.
Vegan Deficiency Help
Are you getting enough protein, calcium, iron, and Omega-3 fatty acids?
Meat and dairy free diets can be deficient in these nutrients. Don't let that happen to you.
This easy homemade candy recipe can help. The delicious natural cocoa powder is a good source of iron. It also contributes a little calcium and protein.
Every little bit counts, doesn't it?
Inclined toward raw food? Try substituting raw cocoa powder for a major boost in nutrition! Haven't tried it so I can't guarantee it'll work in the recipe.
Smart balance® light not only makes it dairy free, it's a good source of those important Omega-3's. Most of us lack enough of that fatty acid.
It also provides some Vitamin A and E. Plus and this is a big plus, it has less than half the fat of butter or vegetable oils.
Are you fat deficient? Probably not.




Make it yourself. Then you can be sure no animals were harmed in the making of these vegan truffles. Dairy free for you and low fat for the rest of us. Intense chocolate flavor for those intent on improving their world.



Return to Chocolate Candy Recipes.

How about some Dairy-Free Cookies made with chocolate chips. Check out this recipe.

Left the lifestyle? Yeah, like that's going to happen. Family and friends? Make a gift batch of the full fat version of Chocolate Truffles.

Return to Health Benefits of Dark Chocolate Home Page