Homemade Gift Baskets Save  Cash
Use this search box to find the info you're looking for!
Custom Search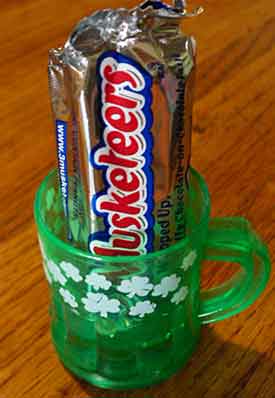 Gift basket budget tight?  Have more time than money?  Make homemade gift baskets for Valentine's Day, Mother's Day or any day.

Spend time, not a lot of money. Doesn't have to be fancy just heartfelt. Why not include some heart healthy chocolate?

Let's crank up your creativity with a few simple suggestions. Time to get thrifty with your gifty!
Gift Basket Basics
First step?  Learn the basic rules of gift basket making.

Rule Number One:  All baskets MUST contain chocolate.  And plenty of it! 

Ok, so it's not actually a rule.  It's more of a recommendation. But isn't chocolate the key to a great gift?

Sure it is! That's why all my present plans include it.

But there aren't actually any rules. So use whatever kind of candy you want!

All you need to do is find a container and fill it with things the recipient will love.  Something like chocolate and maybe some small token.  Simple.
Baskets and Beyond
You don't have to use a basket.  A cup, mug, box, bag, bucket, etc. will work, too.  Anything will do...

pretty mug

decorated glass

colorful gift bag

little plastic pail
bag-decorated with a holiday theme

box

homemade candy bar cozy



Or take a plain container and decorate it with ribbon, stickers, wrapping paper or colorful cutouts.

Dress it up with the colors and symbols of the holiday or gift giving occasion.  Or bedeck it in the birthday girl's favorite colors.

Imagine then create.
Browse for Bargains
You really don't want to spend much for the basket (container). It's just for holding the goodies.  So where might you find a bargain?

Resale shops and garage sales are great places to look.  I've found many great woven wonders for very little cash. 

Dollar or 99 cent stores are also a good choice.  Check the craft aisle, kitchen wares, party supplies, cheap containers abound.

When browsing keep size in mind.  Smaller fills faster and for less.

Have you checked around your house?  You might have something you can dust off and regift!
Edibles
So what can you fill your gift container with?  Can you bake? 

Most people love home baked treats! Why not make some...
brownies

cupcakes-use baking cups with decorative papers and picks
Maybe some homemade candy or molded chocolates instead?

Or buy candy. Dark chocolate is delicious!  Fruit or nuts covered in it can be a healthy choice.

Make your basket a little more special.  Add something not edible.
Mother's Day
Splurge a little on your Mother's day or Valentine's day basket.  Why not include a ...


candle &/or holder
mug for her favorite warm beverage
glass for her favorite cold drink

packet of flower seeds

small garden decoration like a butterfly

puzzle book or print out a free word search

small picture frame
scrub brush-ok, maybe not!
You know what your mom likes, right?  Right?  Ok, then choose wisely. 

Express your love with a token and some candy.  Don't ever disappoint momma!

Kid's
Kid's love candy.  And toys!  So don't forget to drop a little toy into your homemade gift baskets.

Little ones always enjoy... 

finger paints/watercolor set

cans of colored dough

tiny stuffed animal

bubbles

things that glow in the dark

kid-size flashlight


Just be sure the toys are age appropriate.  And heed package warnings, of course.

Maybe more toys and less candy would be wise.  A candy overdose is never pretty!
Hot Chocolate Gift Basket
Here's a very simple gift for the hot cocoa lover.
Buy a mug 

Drop a single serve packet or two of hot chocolate mix in it.  Add a bow or ribbon.

Or make some homemade cocoa mix.  Pour in into a plastic bag. Tie with a ribbon or yarn. Include a card with serving instructions.
Done!
Dark Chocolate Gift Basket Idea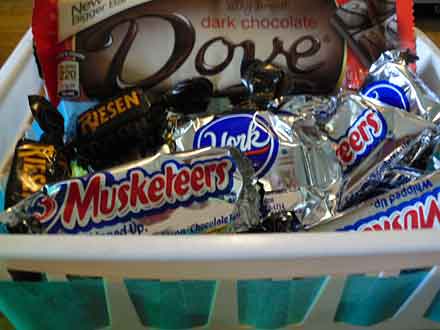 Here's a simple and cheap dark chocolate basket.  I used a small rectangular basket from the Dollar Tree store.


Added some color with a strip of blue tissue paper. Wove it into the basket sides.

Then filled the basket with candy.

Took about 5 minutes to make.  Didn't cost much either.  Bought the dark chocolate Dove bar and the Riesen at the dollar store, too.

The lucky recipients can use the empty basket for storage.  It's like two gifts in one!
Candy Bar Cozy
Ok, if you're really low on cash you can make a candy bar cozy!  Cheap to make and holds one candy bar. 
They are homemade gift baskets for the financially challenged!

It's made with tissue paper.  Yep, you guessed it, got a package at the dollar store.
What you'll need:
sheet of tissue paper
scissors
glue stick
decorating supplies-construction paper, scraps of wrapping paper, markers, etc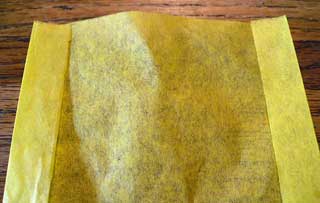 Step 1: cut a 5 inch by 12 inch strip of tissue paper.
Step 2: fold over a half-inch strip lengthwise down each side (see photo above)

Step 3: fold in half width wise
Step 4: unfold and lay flat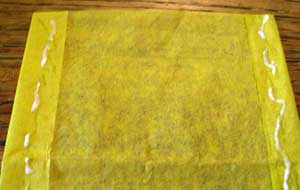 Step 5 : use glue stick smear glue down the entire length of the folded edges (bottled glue will work but shows through the paper)

Step 6: fold in half evenly.  Bring bottom half up and align with top half. Gently run your finger down each side to smooth.  
Step 7: decorate.  Personalize with a message, etc.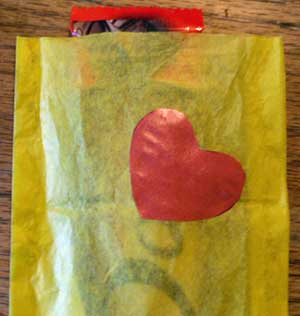 Step 8: insert candy bar!  Done, easy wasn't it?
Low tech and low budget for gift giving during times of financial distress.
See, homemade gift baskets don't have to be elaborate and expensive. They can be very simple and cheap, but nice.  When money is tight, get creative.
Make it yourself and save.  Only an ingrate wouldn't appreciate!
Back to Discount Chocolate for more ideas.

Return to Health Benefits of Dark Chocolate Home Page