Trader Joe's: Belgian Chocolate
and More
!
Use this search box to find the info you're looking for!
Custom Search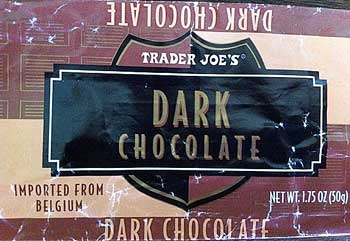 Brother can you spare a bar? ;)
Careful when you shop at Trader Joes!
You may not realize it but you're surrounded by diet defeating dark chocolate deals.

It's true, they're on almost every aisle. So many deliciously dark offerings.
It's impossible to resist their call. So don't bother. Give in.

Way too many to list. So here's a few of TJ's chocolate products I've tasted and reviewed for you.
Belgian Chocolate Bars
Trader Joe sells a rich Belgian dark chocolate bar. These bars are surprisingly delicious especially for the price.

Real Belgian chocolate that shouts quality as it melts on your tongue. It's way too easy to develop a dependency on this stuff.

The bars come in 70 and 72% cacao (and milk chocolate, too).

They're sold in a multi-pack of 3 small bars. Or a giant 17.6 ounce bar.

Those little bars are perfect for snacking. Just remember to try to stick to about a half a bar a day!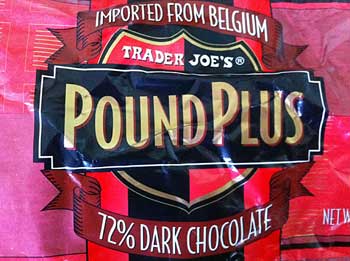 That giant bar is great for baking. I've used it to make some delicious brownies.
Several batches can be made from just one behemoth bar.
And you might have some left to snack on.
Or maybe you prefer organic chocolate?  Try the Belgian (72% cacao) bar.  It's made from fair trade cocoa beans. 

Great deal for the dough! I highly recommend you give these a try.
These bars are good but maybe your taste buds are crying out for adventure? Keep reading...
Trader Joe's Chocolate Palette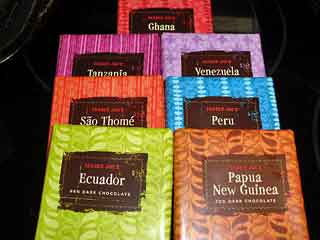 Ol' Joes got them covered. Treat your mouth and the rest of your senses to Trader Joes Chocolate Palette.

It's a trip in a box. Your tongue can sample dark chocolate from around the world without ever leaving your mouth.


Try the Chocolate Palette. It's a box of 8 large squares weighing in at 1.6 ounces each. Included is a handy guide that describes the distinctive flavor qualities of each and suggests a flavor pairing.


The bars are made with chocolate sourced from several cocoa producing regions. But each candy bar is single origin, no mixing of cocoa beans.

So you taste only cocoa beans from a particular area or estate. That way you can experience geography's subtle influence on the flavor.


Cocoa beans from...

South America, the ancestral home of the cacao tree, is represented by 3 candy bars. 1 from each of these countries...

Venezuela-70% cacao

Peru-60% cacao

Ecuador-66% cacao


The Carribean contributes 1 bar from the Dominican Republic-70% cacao.


Oceania, located in the southwestern Pacific Ocean, is represented by a bar from Papau New Guinea-70% cacao

Africa, where the majority of cocoa is grown, contributes 1 bar from each of these countries...

Sao Thome-70% cacao

Tanzania-73% cacao

Ghana, second largest grower of cacao in the world, 70% cacoa


These dark and tasty candies make a great gift for chocoholics. Hey, that's how I got my first palette!

The bars are snackalicious and fit for baking.

Speaking of baking...
Chocolate Croissants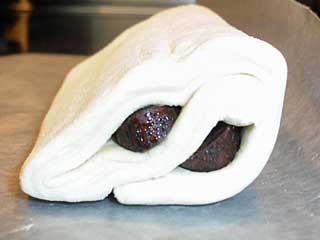 Chocolate-filled croissants.

These, in my opinion, are among the best items Trader Joe has to offer.

Four frozen chocolate filled croissants to the box. These babies are authentic. So authentic you have to let them rise before you can even bake them!

Yep, there's no quick fix here. But they're well worth the wait. You just have to plan ahead. 8 hours ahead.
These fantastic French pastries need 8 hours to rise at room temperature. But rise they do.
Then there's the sweet torture of baking. Your kitchen will smell like a pâtisserie and your mouth will water.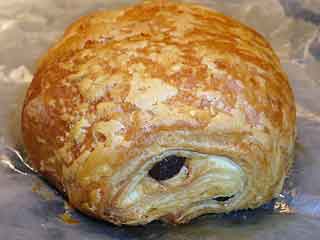 The result is a light, very flaky croissant. The interior is pleasantly chewy with two stripes of melted dark chocolate.

I used to have to rush to the bakery to fight for a chocolate croissant but not any more!

These croissants are very good. But maybe not for everyone. They're not sweet and the chocolate is strong.

And with the long rise it's not exactly a convenience food.

But the chocolate filled French toast is!
Chocolate French Toast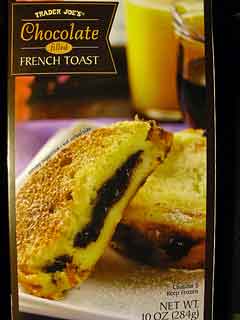 Trader Joe's has a much more convenient frozen chocolate breakfast option. If you're short on time, you may prefer it over the chocolate croissants.

There's no rise time. The toast can be microwaved. So it's a very fast breakfast, snack or whatever.

But is the french toast tasty? Yes, the chocolate is very good, dark and plentiful. But it's nearly overpowered by the strong egg flavor.

It was just too eggy. Reminded me of the time, many years ago, when I messed up a mousse by not fully incorporating the yolks. Ugh, chocolate scrambled eggs!


I'll stick with the croissants.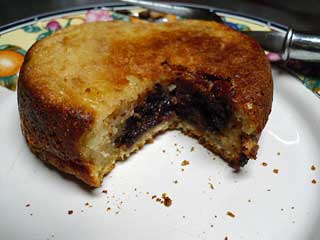 The french toast is made with quality ingredients.
And it's an excuse to have chocolate for breakfast.
So why not taste it for yourself.
Dark Chocolate Covered Cherries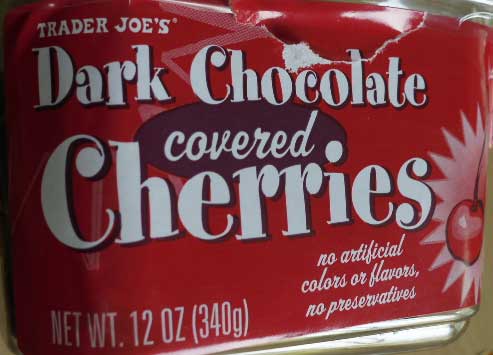 Cherries covered in rich dark chocolate? Trader Joes has those.
But how do they compare to other brands? Thanks for asking! Just so happens I've sampled a few made by the other guys.
TJ's rank right up there with Harry & David's when it comes to good quality chocolate.
And it's not surprising that Nestles Cherry Raisinets chocolate coating wasn't as good.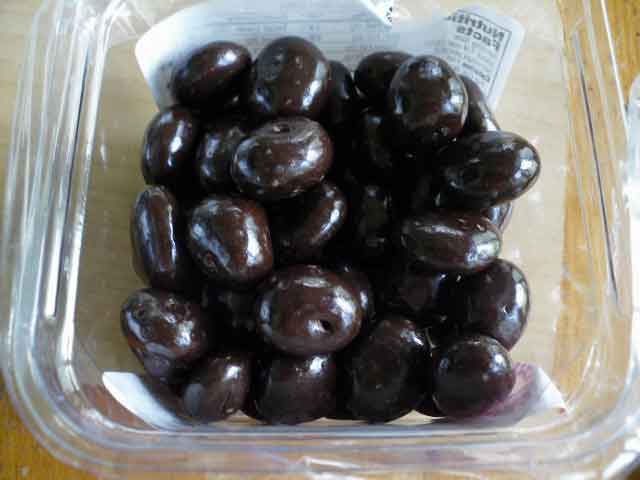 But I was perplexed by the lack of cherry flavor. Even Nestles bargain-basement candy had a more pronounced cherry taste than Joe's.
How could that be? Tasted like there was very little cherry in there. Skimping on ingredients is just not the Trader Joes way!
So I dissected a random sample of Trader Joe's dark chocolate cherries. Turns out there was plenty of fruit inside.
Whew! TJ didn't fail me.
Conclusion? The delicious dark chocolate coating was too tasty. It over powered the fruit. Just a hint of the luscious cherry flavor was able to punch through.
Chocolate Cheese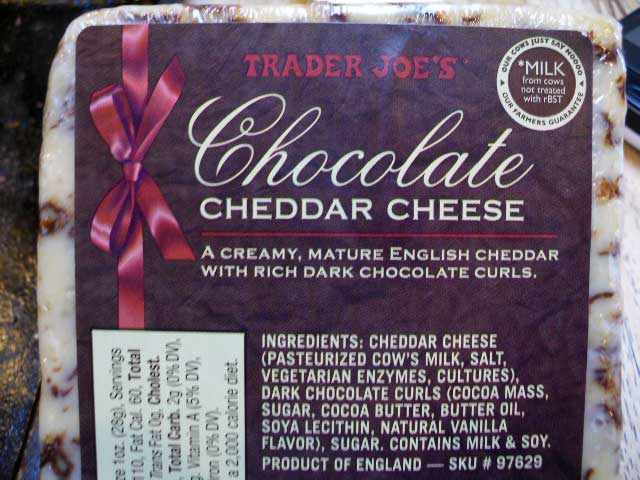 Chocolate cheddar cheese? Is that not a strange combination?
Both foods are fantastic. But...
I admit I had to really think about this one before purchasing. I was intrigued and yet repulsed by the idea of sampling that combo.
So I had to walk by the cheese display 3 times before I bit, uh, purchased.
Should have kept walking.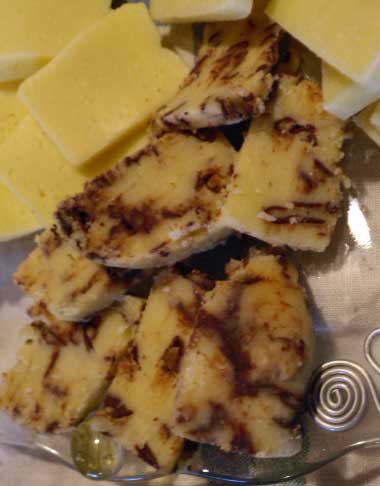 I did not enjoy it at all. The cheese was just way too sharp! I couldn't even be sure I was actually tasting any dark chocolate.
I mean, I could see the chocolate, it was there. But had it been a blind taste test I would have never guessed there was any chocolate in it!
This English cheddar was not my cup of tea. But it may be yours.

Some of the other tasters loved it!
It wasn't horrible. So you may want to experience it for yourself.
Way More Chocolate Chips Cookies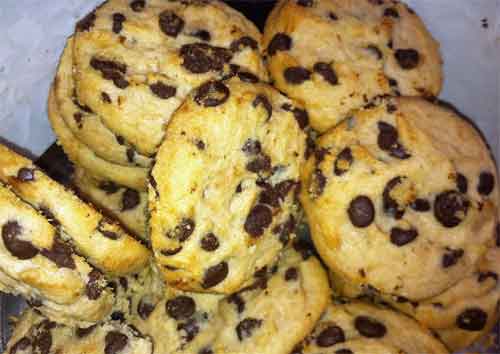 Once again Trader Joe delivers!  These chocolate chip cookies are packed with chips.
So many chips in fact, that they are the first item on the ingredient list. Yummy!!
Take a look at the photo.  The cookies live up to the hype on the package.

These crispy little cookies are almost the perfect chocolate chip cookie.  What would make them ideal?  
Well, they could to try to squeeze a few more bits of bittersweet into them.  Then they'd be perfect!
Or would that be overkill?  Too much chocolate?  Not possible (in my world).

As they are, they should satisfy most dark chocoholics.
Dark chocolate health benefits?  Could be, there's a lot of chips.  Plus a serving contains 4% vitamin A and 4% iron(PDA).

Grab yourself a tub of these tasty treats!  You'll have about 16 servings of deliciousness to enjoy.

Chocolate Lava Cakes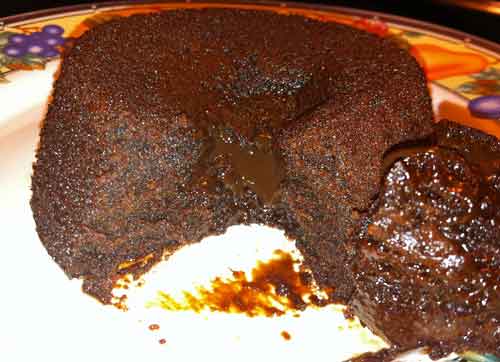 Joe knows lava cakes.  Not surprising, really.  Trader Joe's chocolate selection is awesome.
These frozen cakes are delicious, moist and easy.  Just micro them in their container. 
Eat them straight from the dish.  Or dirty a plate if you're feeling fancy. 
These dark little confections are very tasty.  Gooey goodness like at a restaurant but ready when you are.
Keep a box of these in your freezer for a sweet treat.  A bit of bittersweet ready in seconds.
One cake is big enough to share(only) if you have to!  Believe me, you're going to want eat the whole thing.

No TJ in your neighborhood?  Make it yourself with this handy chocolate lava cake recipe.  Not quite as easy but awesome!
Journey to the Center of the Cookie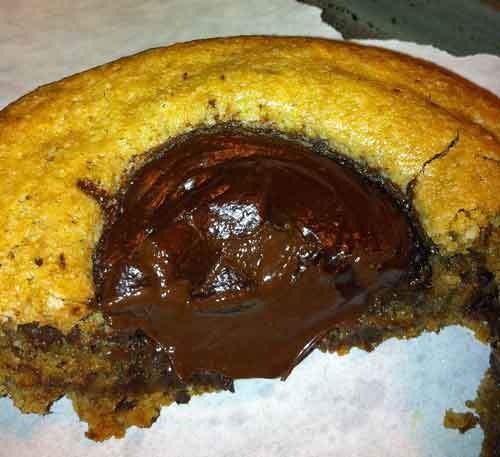 Don't you just want to dip your finger into that chocolate center?  This is another awesome treat from TJ's.  That guy must be a chocoholic!
Doesn't a warm chocolate chip cookie filled with chocolate sound awesome about now?  Now and anytime!
This giant cookie is a great dessert.  Don't let it cool (never going to happen around me)!
It's at it's best when still warm.  Crunchy cookie outside, molten chocolate inside.  Mmmmm...so tasty.
If you love America's favorite cookie, you have to try this.
Maybe you already have at Red Lobster?  That's where I first sampled such a treat.   It was great.  But...
Think about it.  You can probably buy two boxes for the price of that one dessert!  Just saying. 
Ok, so I'm a frugal dark chocolate freak.  Just trying to help you s-t-r-e-t-c-h your chocolate dollar! 
Now go get some!  You can thank me later.

FYI: If you do buy, I recommend you warm it in your conventional oven.   Burned my first cookie using the microwave.   Even warmed it for a shorter time than recommended.
Had to trash can it.  It was inedible.  Tragic!

Trader Joe's knows how to please chocolate lovers. There are many delicious bittersweet treats waiting to be discovered. Each visit is kinda like a treasure hunt. Seek, sample and savor. I'll see you there!
Return to Dark Chocolate Reviews
Return to Health Benefits of Dark Chocolate Home Page